Inert Ceramic Ball>> Sales: Biz@jintai-group.cn
Inert Ceramic Ball

(Catalyst Bed Support Media)
Product No: JT-ICB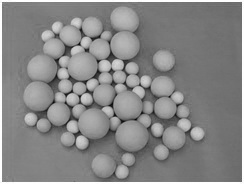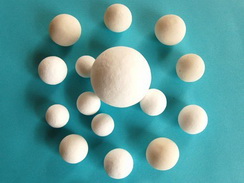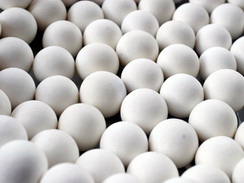 Introduction of JINTAI Inert Ceramic Ball Products:
JINTAI produces two standard types of Catalyst Bed Support Media, i.e. the JT-ICB ceramic inert balls and the JT-IAB alumina inert balls.
The JT-ICB ceramic inert balls are widely used in many different applications. The main components of the raw material of the JT-ICB are SiO2<80%, Al2O3+SiO2 >93%. The predominant qualities of the JT-ICB catalyst bed support media are its low pressure drop, excellent compressive strength and good resistance to thermal shock.
JINTAI Inert Alumina Ball(Al2O3>99%) spheres are characterized by their low silica content (SiO2 < 0.2%). The high degree of purity (Al2O3 > 99%) and strength make the product ideal for high temperature and steam applications where leached silica can coat downstream equipment or foul or poison the catalyst bed. The excellent thermal properties combined with its high density and ability to withstand operating temperatures to 1.800oC, make it a good choice for heat retention or equilibration media. All produced batches are tested according to the standard quality tests and a test certificate can be supplied together with the delivery. Additional testing is available on request.
size

piece
density

surface
area

voidage

JT-ICB
bulk weight

JT-IAB
bulk weight

inch

mm

pcs/m3

m2/m3

%

kg/m3

kg/m3

1/8"

2 - 4

8.000.000

720

44

1.400

2.200

1/4"

5 - 7

4.750.000

420

44

1.400

2.200

3/8"

9 - 11

1.140.000

390

44

1.400

2.200

1/2"

11 - 13

580.000

320

45

1.400

2.200

5/8"

14 - 17

330.000

230

45

1.400

2.200

3/4"

18 - 21

142.000

170

45

1.400

2.200

1"

23 - 27

71.000

130

45

1.400

2.000

1 1/4"

30 - 34

35.000

110

46

1.350

2.000

1 1/2"

35 - 40

19.200

90

47

1.350

2.000

2"

48 - 56

8.000

70

47

1.300

2.000
JINTAI Inert Ceramic Balls are widely used in many fields, including petroleum, chemical engineering, fertilizer production, natural gas and environmental protection. They are used as covering and supporting materials of catalysts in reaction vessels and as packing in towers.
JINTAI Inert Ceramic Balls have stable chemical features and a low rate of water absorption, resist high temperatures and high pressure, and also resist the corrosion of acid, alkali and some other organic solvents. They can stand the change in temperature during the manufacturing process.
The main role of inert ceramic balls is to increase the distribution spots of gas or liquid, and to support and protect the activating catalyst with low strength.
JINTAI Typical Quality Assurance for Ceramic Ball
To analyze the raw material for chemical composition, particle size and moisture content to ensure consistent properties that will provide optimum performance of the finished product.

Following crumbling and pulverization of the raw material it is screened to remove coarser particles.

After the ground raw material is pre-selected by magnetic separation it is checked to make sure that the Fe2O3 content is less than 1%. After aging and soaking, the water content is checked to ensure it is between 20-24%.
After moulding shapes the product, extruding or hand rolling, a random check is made on dimensions and shapes.

After the product is dried, a random check to make sure that the moisture content is less than 3%.

During firing the furnace is precisely controlled with regard to temperature and duration of firing.

Every finished item is visually examined to confirm shape, color and dimensions are within specification.

Random tests are carried out to confirm acceptable chemical and physical properties of the finished product. This includes testing for specific gravity, compressibility strength, water absorption, anti-acid strength, etc.

Prior to packing the finished product for dispatch the weight of a unit volume is checked to comply with the specification limits.

Finally, the finished product is certified to comply with the Customers specification.
Packing
<![if !supportLists]> <![endif]>By plastic bag, each bag 25kgs net, palletized.
By super sacks, each big sacks 1000-1400kgs net, palletized.
By steel drum, each drum 250kgs net, palletized.
You might have Interest in the following JINTAI TOWER PACKING Product:
CERAMIC RANDOM PACKING PLASTIC RANDOM PACKING
METAL RANDOM PACKING STRUCTURED PACKING
| | | | | | |
| --- | --- | --- | --- | --- | --- |
| | | | | | JINTAI Structured Tower Packing |
| | | | | | JINTAI Pall Ring Packing |
| | | | | | JINTAI Raschig Ring Packing |
| | | | | | JINTAI Saddle Ring Packing |
| | | | | | JINTAI Cascade Mini Ring Packing |
| | | | | | JINTAI Tellerette Rosette Ring Packing |
| | | | | | JINTAI Catalyst Support Media |